FusionSolar is a Huawei platform for monitoring solar inverters, but it also have a interface for firmware upgrade.
Note: This is probably only possible if you have the installer account.
This post describes how I did a firmware upgrade in the USB dongle of the SUN2000 inverter.
Login to FusionSolar and select Plants/Upgrade Management from the top menu: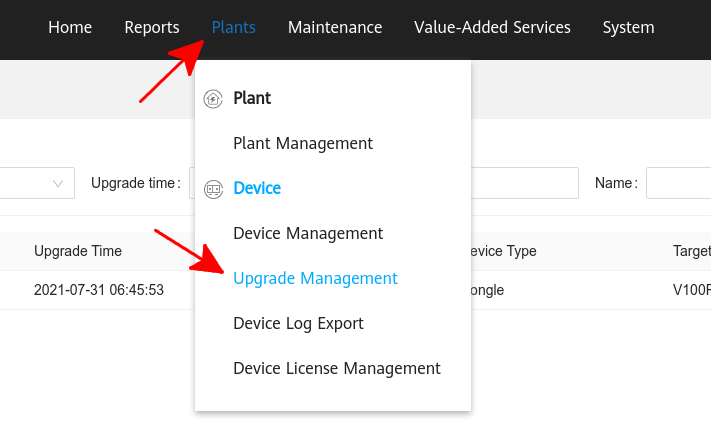 You will see a new screen with all management requests. You need to add a new request. Click a blue "Add" button in the top right corner of the screen and you'll see a new window: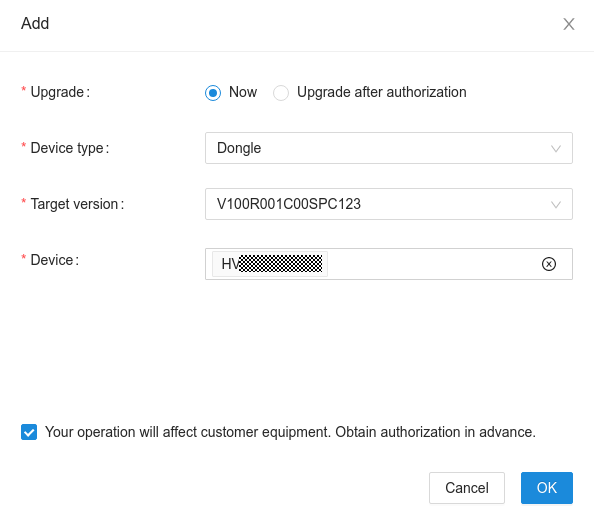 In this window you need to select "Now" and fill all required fields – all needs to be filled – in above case I selected my USB dongle. The "Target version" is the desired firmware version which you want to upload to the device.
After clicking OK the request is added to the list and the dongle is starting to upgrade. You can live see the upgrade progress:

After the upload process is finished, the service shows the "Delayed" status – this is normal and it means, that the device is scheduled for reboot. Stay tuned, and after the reboot happened the following status is displayed:

Upgrade process is now finished.
If you for some reason want to reset a device by yourself, then you can do so from Device Management, just select a device you want to manage and click its name, as shown below:

Then from the Device Details page you can find a "Reset" button which you can use:

After confirmation the device should reset (reboot in case of dongle).